Ryan D. Anderson, K.C.
B.Sc., J.D.
Partner of Huckvale Wilde Harvie MacLennan LLP
Bencher of the Law Society of Alberta (2018-)
Committee Member of the Alberta Real Estate Committee (2018-)
Board Member of the Legal Education Society of Alberta (2018-present)
Member: Law Society of Alberta (2003)
Member: Collaborative Divorce of Alberta Association (Lethbridge)
Member: Lethbridge Bar Association
Past Chair Lethbridge Law Day
Casual Instructor of Business Law at Lethbridge College
Presenter on numerous topics for Lethbridge Public Legal Education
Presenter for the Legal Education Society of Alberta in Edmonton and Calgary for Financial Disclosure Issues (2017) and Chaired the panel for Family Law Contracts (2019)
I have the experience to help you navigate Business and Agricultural Transactions and have assisted clients in Agricultural Land Purchases and Sales, Purchase and Sale of Quotas, Bank Financing, and Estate Planning.
Allow me to lessen your stress. I will make certain you have all the information you need to make informed decisions. No matter how simple or complex your situation is, I am here to help.
Since 2002, I have had extensive experience in serving clients in the areas of:
Agricultural & Residential Real Estate and Financing
Wills and Estates
Corporate and Commercial Reorganizations
Family Law including Custody & Access
Mediation & Collaborative Dispute Resolutions
Profile
I grew up on my family farm south of Magrath. After graduating from the University of Alberta, with a Bachelor of Science degree, I entered Law School at the University of Calgary which, during my studies, was the number one ranked Law School by Canadian Lawyer Magazine. Upon graduation from Law School in 2002, I worked in the Lethbridge area and joined the Huckvale firm in the spring of 2009 and entered the Partnership in 2011. I have been actively involved in the legal community in Southern Alberta and am a Past Chair of Lethbridge Law Day, a member of the Lethbridge Bar Association, a sessional instructor at Lethbridge College, a presenter on numerous topics for Lethbridge Public Legal Education, and a member of the Collaborative Law Group
Community Involvement
My family enjoys spending time together at the lake, in the mountains and following each other around to various sporting activities. I feel it is important to serve and so volunteer with my church, assist on the board of a local society with persons with developmental disabilities, and coach many of my children's sports teams.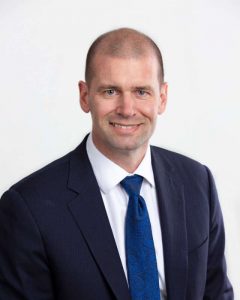 Areas of Practice
"I am here to help you navigate through your business, agricultural and estate planning matters. "